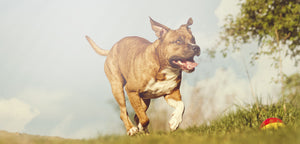 Taking canine mobility health and comfort to a whole new level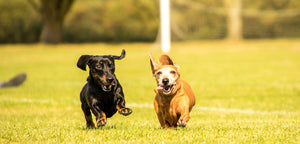 Supports the natural inflammation process by speeding up the inflammation cycle
100% Percent Satisfaction Guarantee or your Money Back!
First, it works to support the entire leg system. Most canine joint products are designed to support the health of the synovial fluid and cartilage in the joint only. Our product focuses on all the components involved in the stabilization and mobility of the limb. This includes the effects from muscle injuries, hip dysplasia, CrCL (canine ACL) injuries and arthritis.
Secondly, our product technology supports the natural inflammation process by speeding up the inflammation cycle. This allows the healing cycle to occur quickly while working as a natural pain reliever as well.
What Does Forte Flex K9 Do?
Supports joint lubrication
Promotes healthy tendons, ligaments and cartilage
Promotes mobility and comfort
Enhances the immune system
Natural anti-inflammatory
★★★★★

 The most amazing miracle! We thought we would need to put our Brooklyn down, she was that sore. Within 60 days on Forte Flex and she can run and play again. You would not ever think this was the same dog! 

Carey K
★★★★★

Forte Flex helped Maisie return to her puppy days! She is moving so much better and back to wanting to play again!

Jamie M
★★★★★

After 30 days on Forte Flex it was like night and day in the difference in our dog Charlie! He can't wait to go out on our walks now. 

Michael S
INGREDIENTS
Joint Support
Glucosamine HCI - It promotes healthy cartilage and is a natural anti-inflammatory. It also activates cartilage to produce the mortar (glycosaminoglycans) that holds moisture around the bricks (cartilage cells).
Chondroitin Sulfate - is another natural substance found in your dog's cartilage and, when paired with glucosamine, has an even more beneficial effect on your dog's joints. It also Inhibits the white blood cell enzymes that damage cartilage, aids in the absorption of nutrients into cartilage and encourages cartilage synthesis.
Soft Tissues and Cartilage Support
Collagen Type II - Type II collagen is one of the main proteins in cartilage. It's been suggested that taking collagen hydrolysate can improve the symptoms of osteoarthritis by stimulating the body's production of joint collagen.
Hyaluronic Acid (HA) - Hyaluronic Acid has been shown to support healthy joint and cartilage function as well as maintaining normal, healthy joint function.
Inflammation Support
Arto-Velox - Our proprietary blend of proteolytic enzymes supports the inflammation process by increasing the flexibility of red blood cells, improving the flow through the arteries. Proteolytic enzymes also reduce free radicals from the tissue that cause degradation of cartilage. They are known to work as a natural anti-inflammatory and help increase over-all comfort.